Well, I did it again. I opened this big ol' mouth of mine and proclaimed a life void of wackiness. You know EXACTLY what that means. Craziness of every kind has found me! I'm not sure I had fully released the "Publish Post" button when I became surround my nuttiness. All good but wacked out nonetheless. Tons of deadlines at work ...a major crop at Serendipity ...computer issues of the worst kind ...that would be only a smidge of what has enveloped me. Isn't it just like a computer to act up when you need it to behave the most??? Kind of like a little child, huh? But you can't bribe a computer with a new toy or piece of candy...not that I ever did that with my kids.
Lots of changes have occurred in my world over the past 3 months. I haven't written about them yet, but I plan to soon. You will have to stay tuned. Lots of drama. My life could be a prime time soap opera complete with all the requisite heartaches, back stabbing, cat fights, sex (well, maybe not), hot sexy men (yep, that's right), fantastic gal pals and an exciting wardrobe (I treated myself to more retail therapy). I will admit to having debated starting a new blog...under an assumed name...where I can write about my antics. The life of a single girl over 40 kinda requires some anonymity if you disclose everything...
OK, so that wasn't what this post was supposed to be about but it's my blog and I can write what I want. LOL! I really wanted to post a few layouts I've done lately.
First is my
Fave Things
layout. This time it's all about our favorite season. Mine is unquestionably Fall. Everything about it makes me happy! So much so, I couldn't encompass it all in a single layout. So I made a mini album. I used products from this month's
Serendipity
Altered kit.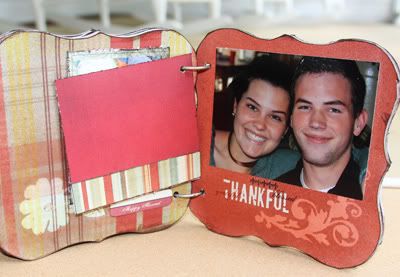 I hope you will participate in our challenge. You have until the 31st before the next challenge is posted.
The next few layouts were also done with my October Serendipity Altered kit. This is a gorgeous kit full of Pink Paislee's Amber Road and Scrap Within Reach products. I completed the mini (included in the kit) and 3 other layouts with so much product left over. The full altered kit has sold out, but you can get a mini version.
This first layout is a tribute to my dad. He is the hardest working person I know. Even at 64 he is still going strong. Although his up-bringing makes it hard for him to express his love in words, he has always worked hard to make my life easier.
I had fun with the next one. It was fun (not exactly...haha) making the half circle border. If you have anal tendencies and a strong need for perfection, I suggest you NEVER give this a try. LOL! It looks simple but my quirky personality flaws got in the way. I eventually took a deep breath and just let it go. I think it turned out OK. Funny thing, I have more crooked titles and tilted photos than I care to count. I try to turn a blind eye to them and just enjoy the process rather than seek perfection. But those little circles got the best of me, I tell ya!
My last layout from the kit is a hodge-podge of all the items in the kit. My kids have an incredible relationship with their cousins. While they don't get to see them as often as they would like, they are as much friends as they are family.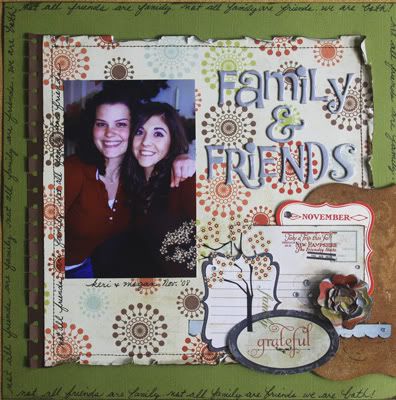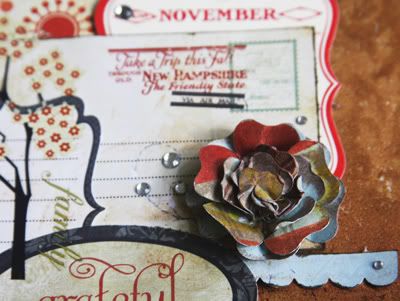 My final layout is for the current prompt at
Forward Progress
. The prompt asks us to explore the expectations of others and how we handle them. Do we allow them to effect our decisions? My journaling was very simple this time. This topic was a major source of struggle in my life when I was younger. I was so caught up in meeting other's expectations, or at least what I thought was their expectiations. But they say with age comes wisdom and I find that to be true with this subject. Once I let go of the expectations of others, life became so much simpler...easier.
Try to overlook the poor picture quality. The little "perfection" demon is having a hey day with me today. I'm not happy with anything I've posted today...just a barrel of complaints:).
Thanks for stopping by and taking the time to read my ramblings. I will be around soon to say hello.
Hugs and love,
L
Don't forget to comment on
THIS
post to be eligible for my current give-away!!!